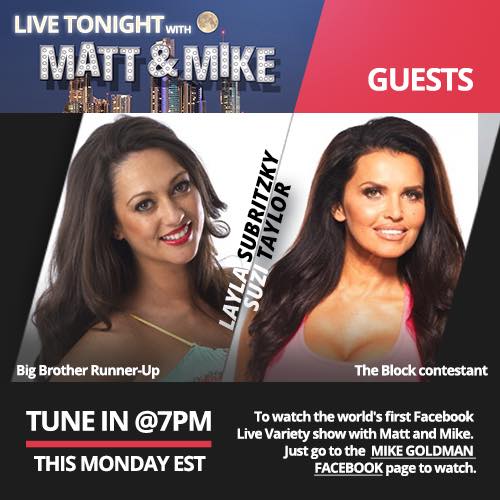 I really don't want to be the guy thats says, please watch my show its awesome. Mabye im bias, but its a whole lotta different with a truckload of prizes to win.
MATT HOLLYWOOD and myself in the new show, super creatively named Matt and Mike live. Hey it is what it says and most TV shows don't have the balls to go live anymore and thanks to our good friends at FACEBOOK LIVE we can blast the 1.6 billion daily users with our own version of Magic, Celebrities and Mayhem.
That and its been a while since the TV networks gave me another run so I had to do something!!
This Monday the 22nd of August is Celebrity Apprentice and Big Brother star Layla Subritsky and Richard Wilkins "good friend" Suzie Taylor from The Block on Channel 9.
You can also see our other episodes here…MATT AND MIKE LIVE
Wonder if this photo was part of The Block filming?