Im in Sydney this week for the Network Ten Programme launch where apparantly Delta Goodrem is playing.
This is basically a big pump up to the customers, clients and media who help make TEN the best TV station in the country.
Im also here for the latest Friday Night Download episodes, among other things.
Going really well this one, people are loving it!
We're having Kyle and Jaqui O on the show this week to promo the next series of BB.
We have some audition tapes to show that are quite scary.
Bree and Frysie will also be having a crack at the world record for putting on as many pairs of undies as you can in one minute.
Make sure you watch 7.30 this Friday night!
Went shopping in Oxford street today and a lady called Liz read my cards after I bought 4 pairs of shoes from her at some Italian shoe clearance place near ed hardy. I drew the card Knight of Fire!!!! All about doing what you want when you want and unleashing yourself like a firey storm on whatever you want to do. So look out!
Got the Australian Idol final on Sunday, which should be a hoot!
Will fill you in on the goss monday….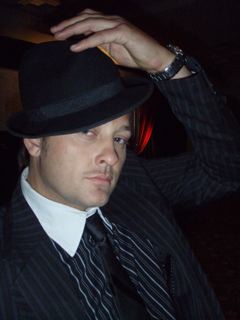 Style was not a class offered at my school…..