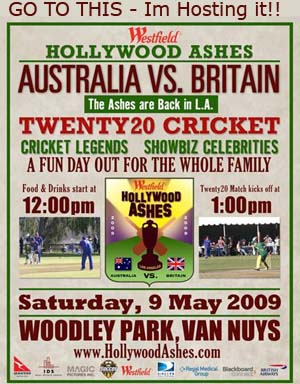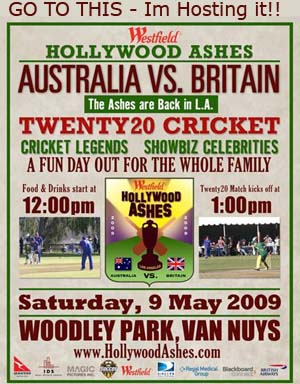 My first ever job in Hollywood, sure its a free one, but I'm on a microphone and there's people coming. Actually theres lots of people and bucket loads of celebrities. 24's Julian Sands and DANCING WITH THE STARS' Len Goodman will battle House's Jesse Spencer and THE BEAST'S Travis Fimmel on Saturday May 9th, 2009 at the Westfield Hollywood Ashes celebrity cricket match. The spirited, Saturday afternoon Twenty20 match at Woodley Cricket Field in Van Nuys, California is between historical rivals, Australia and Britain. Actress/comedienne Tracey Ullman will conduct the coin toss.
The event boasts an additional star-studded team that includes Jason Clarke (BROTHERHOOD), Luke Ford (MUMMY 3) Curtis Stone (celebrity chef), Brett Hicks-Maitland (ALL SAINTS), David Hoflin (NEIGHBOURS), Nash Edgerton (director, THE SQUARE), Ben Lawson (NEIGHBORS) and Cameron Daddo (24) playing for Australia. Representing Britain will be Darius Danesh (POP IDOL), Nigel Lythgoe (SYTYCD), Len Goodman (DWTS), Ross King (KTLA), Julian Stone (GENERAL HOSPITAL) and Rhino (GLADIATORS).
Cricketing legends Graham Hick, (English Test Cricketer) Michael Kasprowicz (Australian Test Cricketer) Shahid Afridi (Pakistan Test Cricketer), Younis Khan (Pakistan Test Captain) will bring a world-class cricketing standard to the occasion.
Cheering from the sidelines will be Eric Idle (MONTY PYTHON), Bruno Tonioli (DWTS), Stephanie Jacobsen (MELROSE PLACE), Natasha Henstridge (ELI STONE), Sean Maguire (THE CLASS), Derek Hough (DWTS), Shannon Elizabeth (AMERICAN PIE), Kris Marshall (LOVE ACTUALLY) plus more to be announced. Honorary supporters include Hugh Jackman, Ozzy Osborne, Rupert Murdoch and cricketing legends Shane Warne and Kevin Pietersen. Hopefully some of those guys show up and I get to interview them for the crowd.

These guys will be there too, they are a Gangsta Rappin Cricket team from Compton.