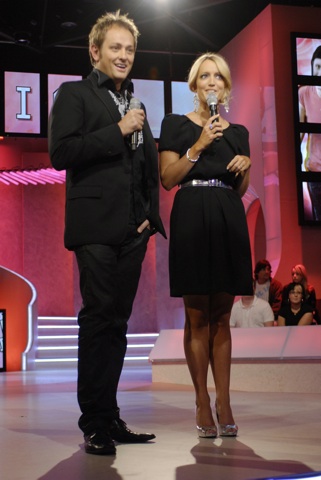 As the latest evictee from the Big brother house, Dixie shoved her face into a bucket of KFC I thought to myself this is really weird.
She was into it like a Mercedes Corby lawyer onto Anna Coren from Today Tonight and I was thinking, how the hell did I get here?
I never thought in a million years I would have a turn at hosting the Sunday eviction show and yesterday when I got the call from BB management telling me that KYLE was sick and they wanted me to fill in I thought it was a joke.
King Kyle has a chest infection and is recovering well I hear. Lets hope he comes back this weekend to stir things up.
After 8 years working on the show, starting out as voiceover and crowd warm up man It was something that I never really thought I would ever get the chance to do. Gretel didnt have a sick day in 7 years. I didn't ring any friends or family to tell them that I was doing it because I really didn't think it was going to happen. What a buzz being up there in front of that roaring crowd, they were so full on.
The intruders were great but Im really annoyed at Terrance. He promised to stir things up but went into the house and did sod all. He didn't even stick up for Terri when Nobbi was absolutely hammering her last night. He was being an absolute bastard, screaming at Terri like a f%*$ing moron. He may be funny and have a lot of fans, but theres no reason to speak to an old lady like that. As annoying as she can be, I really felt for her.