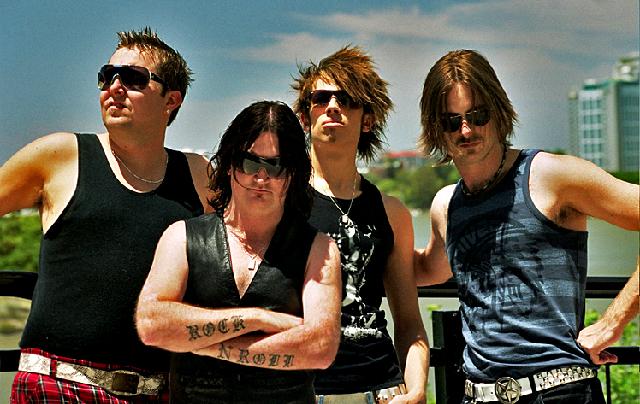 (Its a myth, vampires dont burn in the sun)
Went to see the survivors of my last rock n roll band in their new noisemakers called "the Driving Conditions." Sol Freeman their base player and Nathan Wood the lead singer and an amazing musician were in my band "Polish" ten years ago.
click here to hear the smash hit (that sold 63 copies) "Alien Holiday"

Driving Conditions are the best thing to come out of Brisbane since the Bee Gees, but not dance. Well actually, the best thing since Savage Garden, but not sissy boy music. Um, how can I phrase this? Well let me just say that when it comes to rock, these boys deserve a mention in the geology section of your school science book. I am going to do everything I can to make them mega stars like we did with the Potbelliez on Big Brother.
On the way to the show, I ran into some kid on holidays from the middle east, Abu Dhabi I think. His name was sunni and he tagged along with us. Little dorky dude who followed me round like a bad smell. He ended up pashing some blond tart that looked like she was on with half the blokes in the club. If you like ROCK, get into the driving Conditions!
GET TO THE NEXT SHOW!!!!! www.thedrivingconditions.com