On Saturday night I attended one of the best parties to hit Brisbane in years,
the launch of David Jones amazing new store in Queens Plaza Brisbane city.
Amazing pear martini cocktails and some drink with vodka, lemongrass and ginger beer.
My head still hurts today from too many of those little buggars. Im never drinking again. Yeah right!
A mingling Meggsy Gale, Brian McFadden , a show by his lovely Delta G where there to pump the party atmosphere.
The food was pretty damn good too, served up by super star chef Alister Mcleoud of Bretts Wharf, Ready Steady Cook fame.
Okay the party was great, but what about the store? My credit card should be very afraid because all my favorite labels are there. The Diesel store had some great new stuff in it i really wanted to buy for my next disco dancing lesson. Oh that reminds me……
Tried on a few things too until security asked me politely to put them back on the rack. That dancin dude kinda looks like a Russian version of David Devine whom I spoke to with his lovely wife.
All the channel 9, 7 and 10 local TV people were there but channel 7 had the scoop on the show with Megan Gale in the 6pm bulletin.
Next big party were heading to is this Saturday night in Melbourne for the last ever D&D Ball. If you want to come theres still tickets left and some awesome acts playing. Get your tickets at DDball.com.au
See you there.
Hopefully my headache from the DJs party has worn off by then!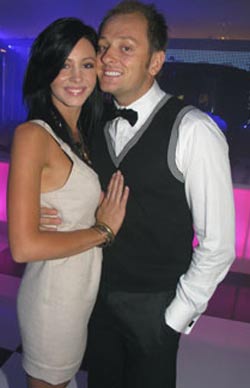 Photo Shannon Malloy brisbanetimes.com.au
Does this look like Tanya is pushing me away. Well I was a bit tipsy, I don't blame her.